Supergeo announced that SuperSurv 3.1a (for Android) supports WMTS service — SuperSurv is the mobile GIS application specially designed for field survey. With Android mobile devices, users can directly collect data, position, overlay maps and online edit map service published by SuperGIS Server 3.1a.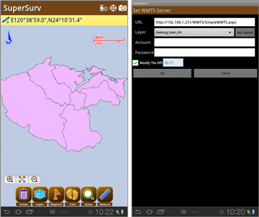 Besides, the data of point, line and polygon that users collect with SuperSurv can be saved in commonly-used vector data formats (SHP and GEO). In addition, Online Map Tool built in SuperSurv 3.1a can be applied to utilize OpenStreetMap as the basemap for data collection to improve the efficiency of field investigation task.
To enable users to overlay geographic data from diverse resources simultaneously, SuperSurv 3.1a (for Android) now supports WMTS service; in this way, users can overlay and display WMTS service with existing layers or SuperGIS Server map services in SuperSurv 3.1a (for Android). In addition, by modifying DPI settings of map tiles, users can connect to WMTS services from different resources, such as TianDiTu, as the basemap to carry out data collection tasks.
To know the latest product information and download the trial, please visit Supergeo website:  or contact us with e-mail: staff@supergeotek.com.